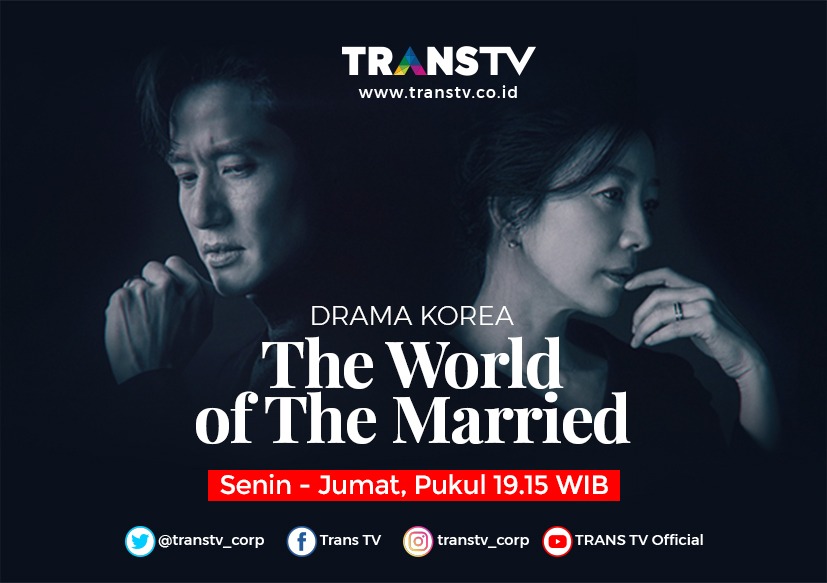 Jakarta, 6 Mei 2020
TRANS TV - Memasuki bulan Mei 2020, TRANS TV telah menyiapkan sebuah drama Korea berjudul "The World Of The Married". Drama yang di produksi oleh Joongang Tongyang Broadcasting Company (JTBC) akan tayang mulai Senin, 11 Mei 2020 setiap Senin-Jumat pukul 19.15 – 20.45 WIB.
Menceritakan tentang kisah kehidupan pasangan suami istri yang di bintangi oleh Park Hae Joon (Lee Tae-oh) sebagai dokter yang berprestasi dan Kim Hee Ae (Ji Sun-woo) sebagai sutradara berbakat yang dikaruniai satu anak laki-laki bernama Joon-young.
Setelah menikahi Lee Tae-oh, Ji Sun-woo merasa bahwa ia memiliki kehidupan yang bahagia karena sukses berkarir menjadi seorang dokter dan didukung oleh suami tercinta dan anaknya. Dalam perjalanan mereka, Ji Sun-woo berhasil membantu suaminya membangun sebuah rumah produksi.
Namun ternyata, Ji Sun-woo dikhianati oleh suaminya yang memiliki hubungan gelap dengan seorang perempuan muda. Sahabat, tetangga, dan rekan kerja Sun-woo pun mengetahui hal ini namun tidak memberitahu Ji Sun-woo. Merasa dikecewakan oleh orang terdekatnya, Sun-woo menyusun rencana balas dendam untuk membongkar perselingkuhan suaminya.
"Sambil menemani pemirsa setia yang sedang mengikuti peraturan pemerintah untuk belajar, bekerja dan beribadah di rumah saja, kami menghadirkan drama Korea yang saat ini masih tayang di JTBC," ucap A. Hadiansyah Lubis selaku Kepala Divisi Public Relations TRANS TV.
***
A. Hadiansyah Lubis
Public Relations Division Head TRANS TV
Untuk keterangan lebih lanjut dapat menghubungi :
Sabrina Irene Charity Pasaribu
Media Relations Officer
Email : Sabrina.transtv@gmail.com
Phone : 082308239301