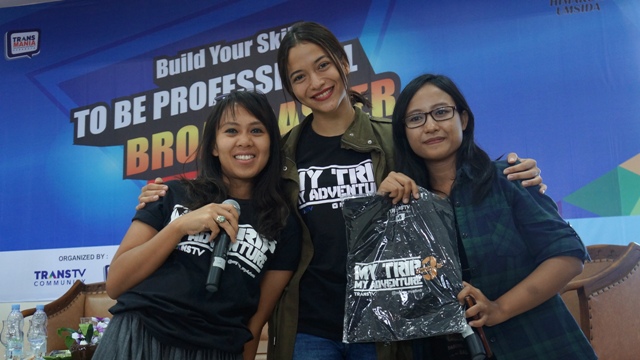 Semarang, 11 November 2016

"Build Up Your Creativity, Broadcast Your Passion"

Melanjuti kesuksesan TRANSMANIA Broadcasting Session yang telah terselenggara di Unikom Bandung, UIN Bandung dan Universitas Muhammdiyah Sidoarjo, TRANSMANIA Semarang bekerjasama dengan Galeri Mahasiswa Unika menghadirkan TRANSMANIA Broadcast Session di Universitas Katolik Soegijapranata, Semarang.

TRANSMANIA Broadcast Session ini diadakan di Theater Tomas Aquinas Unika Soegijapranata, bertempat Jl. Pawiyatan Luhur IV/1, Bendan Dhuwur, Kota Semarang. Kegiatan yang diselenggarakan pada 11 November 2016 ini bertemakan "Build Up Your Creativity, Broadcast Your Passion". Berbagai ilmu dan pengalaman menarik seputar dunia jurnalistik, broadcating dan public speaking akan disampaikan oleh praktisi ahli seperti Harli Rusdiantoro (Excutive Producer My Trip My Adventure The Movie), Denny Sumargo (Cast My Trip My Adventure) dan Tifanny Raytama (Senior News Anchor CNN Indonesia).

Acara hari itu dimulai pukul 09.00 hingga 15.00 WIB. Acara seminar dimulai dengan sesi My Trip My Adventure dibawakan oleh Harli Rusdiantoro dan Denny Sumargo. Pada sesi ini, narasumber akan berbagi ilmu dan pengalaman tentang proses dibalik layar pembuatan program My Trip My Adventure The Movie dan menampilkan cuplikan My Trip My Adventure The Movie. Berlanjut di sesi kedua, Tiffany Raytama membahas tentang bagaimana cara untuk menjadi seorang news anchor professional. TRANSMANIA Broadcast Session diakhiri dengan foto bersama dan pembagian doorprize.