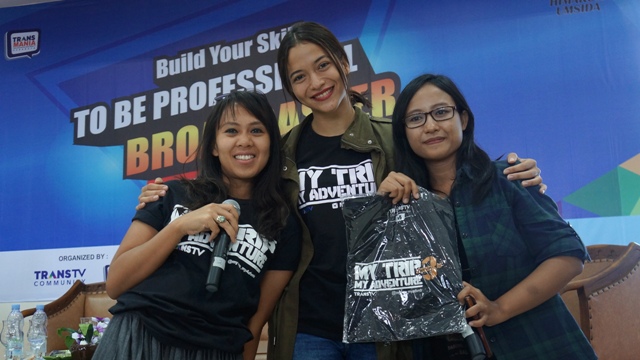 Surabaya, 5 November 2016

"Build Your Skill to be Professional Broadcaster"

Setelah sukses di UNIKOM dan UIN di Kota Bandung, TRANSMANIA Surabaya bekerjasama dengan HIMAKOM UMSIDA menghadirkanTRANSMANIA Broadcast Session di Universitas Muhammadiyah Sidoarjo, Jawa Timur.

TRANSMANIA Broadcast Session (TBS) yang ketiga kalinya ini diadakan di Aula Lantai 7 Gedung Fakultas Ekonomi Universitas Muhammadiyah, Sidoarjoyang pada 05 November 2016. Bertemakan "Build Your Skill to be Professional Broadcaster", acara ini menghadirkan Senior News Anchor CNN Indonesia, Budi Adiputro yang akan berbagi ilmu tentang jurnalistik dan public speaking. Tidak hanya itu, Ilmu seputar dunia jurnalistik juga akan di dibawakan oleh Yessy Yani Agus selaku Excutive Producer My Trip My Adventure dengan didampingi Putri Marino selaku Host My Trip My Adventure.

Seminar dimulai dengan sesi television industry yang dibawakan oleh Budi Adiputro. Pada sesinya, beliau membahas tentang cara menjadi seorang pembaca berita professional serta pengalamannya selama terjun didunia jurnalistik. Sesi kedua dibawakan oleh Yessy Yani Agus dan Putri Marino yang berbagi ilmu dan pengalaman tentang proses dibalik layar pembuatan program My Trip My Adventure yang telah menemani penonton setianya hingga tiga tahun.