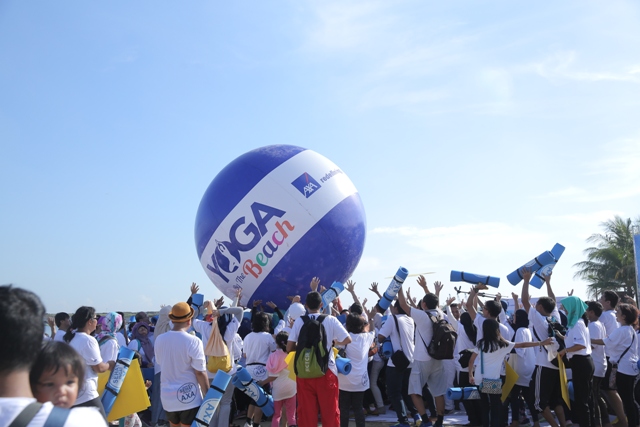 Jakarta, 15 Mei 2016

AXA Mandiri dan AXA bekerjasama dengan TRANS TV mengadakan event Yoga by the Beach 2016. Acara tahunan yoga dari AXA Mandiridan AXA kali ini dikemas dengan lebih menyenangkan dan menyehatkan dengan kegiatan Yoga pagi hari di tepi Pantai Ancol Beach City.

Acara yang dikoordinasi oleh tim Marketing Public Relations TRANS TV ini mampu membuat para penggemar yoga ibu kota tertarik. Berdasarkan data yang dilansir dari pihak panitia, tercatat kurang lebih ada sekitar 2.000 peserta yang ikut kegiatan ini yang berasal dari daerah Jabodetabek. Menurut Bonita, salah satu peserta dari Jakarta, alasannya mengikuti acara Yoga bt the Beach ini selain untuk olahraga bersama teman-teman, juga ingin merasakan pengalaman beryoga, karena yoga tengah menjadi euforia olahraga yang saat ini sedang marak di kota-kota besar di Indonesia.

Sesi yoga ini ditutup dengan pembuatan body banner bertuliskan "Yoga". Menariknya, giant banner ini akan disusun oleh para peserta. Selain itu, tidak hanya yoga, acara tersebut turut dimeriahkan dengan permainan-permainan yang diadakan khusus untuk anak-anak dan keluarga. Ini bisa jadi hiburan sekaligus sarana mendekatkan seluruh anggota keluarga. Peserta juga bisa membeli makanan lezat yang dijual di foodtruck setelah selesai mengikuti kegiatan yoga.Tidak lupa pula beragam doorprize dengan hadiah menarik diberikan kepada peserta untuk menambah keceriaan AXA Yoga By The Beach.